PC Update & Newsletter Online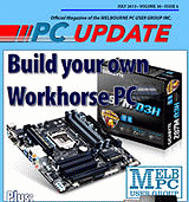 Download here:
Past Editions are available, to distribute our monthly magazine to members.
The anniversary Edition of PC Update, for 30th December 2014 is available there for download.
These magazines are accessed using your primary MelbPC/Office365/Yammer email address and password via our login at: Members Area
Once you are correctly logged in, you can search all those available earlier copies of PC Update way back to 1984 at: Past Editions
To verify the password go to outlook.office365.com, and logout/login using your primary MelbPC email address and password.
If you still experience difficulty, try another browser such as Edge, Chrome, Firefox or Internet Explorer.
To receive MelbPC emails and notification of new PC Updates at an alternative email address, please telephone the office or make a request from your MelbPC email address to office@melbpc.org.au, and advise the staff of your preferred address.
(Revised LW Sept 2019)