A library of computer & technology related books is located at our Moorabbin Headquarters
A library of computer & technology related books is located at our Moorabbin Headquarters
Library

  Clemens Pratt, Librarian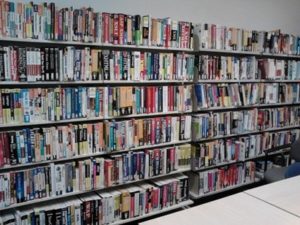 Melb PC Library information
As a service to members of Melbourne PC User Group, a reference library of approximately 900 computer books is provided at our Moorabbin Headquarters.
Members who come in to the Headquarters may just browse books on the shelves, or borrow a book and retain it on loan for a period of one month. A limit of three books may be on loan to any one member at one time.
For general information & to assist in book selection, a link to the catalogue of available books is given below together with a copy of the library rules for the information of members.
Current copies of three magazines are placed on display for reference by visitors to the library: 1. APC  2. PC & Tech Authority  3. Choice Computer. These are not for loan.
Rules
All books on the shelves are available for borrowing by members.

The borrowing period is one (1) month

A member may have up to a maximum of 3 books on loan at one time.

Please register your selection in the "Library Book"

On return, place the book/s in the box on the table. Do not replace on the shelves. Mark the return in the "Library Book"

The computer (PC1) may be used to search for Titles, Subjects etc, but not for registering borrowings.
N.B. The library is of necessity run on an honour system. Our voluntary Librarian Clemens Pratt (cpratt@melbpc.org.au) checks loans and returns once per week. Please observe the above simple borrowing rules and save our group postage and telephone calls chasing up overdue books. New titles will be added depending on the success of the current loan system.
Donations
To help modernise the library's holdings, donations of books within the interests of Melbourne PC User Group published in recent years are welcome; also cash donations for purchasing recent releases. Books can be left in the Library Box, cash given to our office at Melb PC HQ at Moorabbin. On request, donations will be acknowledged by a notation in the books themselves.
Catalogue: Book list at 10 August 2017
Coding scheme for library catalogue
Book review: Windows 10 for Dummies
Book review: Lightroom CC
Book review: Raspberry Pi User Guide
Free Dowloads – The following books have been obtained as free downloads in .pdf format: 1. Networking for Dummies, 11th edition, Doug Lowe (2016) available here. 459 pages, 13MB 2. Hacking for Dummies, Kevin Beaver (2004) available here:357 pages, 9.28MB 3. Learn Python in 7 Days, Mohit and Bhaskar N Das (2017) available here: 262 pages, 8.24MB 4. Python Programming for Teens, Kenneth A Lambert (2015) available here: 243 pages, 6.6MB 5. My SQL Cookbook, Third Edition, Paul DuBois (2014) available here: 837 pages, 4.04MB
News Item – 15 August 2017: The following books have been added to the library and are available for loan: 1. DA-63 Raspberry Pi for Dummies 2nd edition (2015) 2. DIP-27 Rick Sammon's Digital Photography Secrets (2009) 3. DIP-28 Scanning Negatives and Slides (2009) 4. DIP-29 Color Management in Digital Photography (2007) 5. DIP-30 Fine Art Printing for Photographers (2007)
News Item – 7 June 2017: Some donated books: Following a substantial donation of books from his personal collection by former member & volunteer John Carassellos, the older books will be offered progressively to members on a "free to a good home" basis. However the following books have been catalogued & added to the library & are available for loan (library code followed by title & date): 1 DBA-37 Get the Most from Microsoft Access for Windows (2007) 2 DPD-05 InDesign CS3 for Windows & Mac (2008) 3IOO-29 Microsoft Office 2013 QuickSteps (2013) 4 MU-64 Teach Yourself Visually Dreamweaver CS3 (2007) 5 DBA-38 Microsoft Access 2010 for Dummies (2010) 6 IOO-30 Microsoft Office 2010 for Dummies (2010) 7 GRP-10 Microsoft PowerPoint 2010 for Dummies (2010) 8 IOO-31 Microsoft Office 2013 for Dummies (2013). Our thanks to John.
News Item – 3 May 2017: More new books: The following books have been added to the library: 1 IOA-04 Office 365 for Dummies, 2nd Edition 2 IN-138 The Million Dollar Blog 3 IOO-28 Office 2016 at Work for Dummies 4 DIP-26 Digital SLR Photography All-in-One for Dummies, 3rd edition 5 NE-51 Networking for Dummies, 11th edition 6 MAC-09 Teach Yourself Visually MacBook, 3rd edition 7 FIQ-28QuickBooks 2017 for Dummies 8 IN-139 LinkedIn Profile Optimisation for Dummies 9 IN-140 eBay for Dummies, 9th edition
News Item – 1 April 2017: Borrow a magazine: You can now borrow a magazine from the display on the library table: APC, PC & Tech Authority, and Choice Computer. The most recent issues of these magazines are displayed for reference only, but older issues are labelled NOW AVAILABLE FOR LOAN and may be borrowed for a month – just enter the details in the library register. When you return the magazine, enter the return date also in the register.
News Item – 1 April 2017: New books so far this year: The following new books have been added to the library this year & are available for loan: 1. Adobe Dreamweaver CS4 Revealed, 2. The Intelligent Web, 3. Computer Basics, Absolute Beginner's Guide, 4. Apple Watch Guide, 5. iPhone for Seniors, 6. Laptops for Seniors, 7. My iPad, 8. Android Phones for Dummies, 4th edition, 9. Laptops for Seniors in easy steps, 10. My iPad, 11. iPhone for Seniors, 12. Apple Watch Guide, 13. The Intelligent Web, 14. Computer Basics Absolute Beginner's Guide, 15. Apple Computing for Seniors in Easy Steps, 16. Working with a Samsung Galaxy Tablet with Android 5 for SENIORS, 16. Microsoft Excel 2016 for Dummies, 17. PCs for Dummies, 13th Edition, 18. Facebook for Seniors, 19. Microsoft Visio 2016 Step by Step
News Item – 9 September 2016: New books: These 10 new books have been placed on shelves & are available for loan in the usual way. 1. Pogue's Basics   2. Teach Yourself Visually WordPress 3rd edition   3. Teach Yourself Visually PowerPoint 2016   4. PCs All-in-one for Dummies, 6th edition   5. Build Your Own PC Do-It-Yourself for Dummies   6. Teach Yourself Visually Excel 2016   7. Word 2016 for Dummies   8. Photoshop Elements 14 for Dummies   9. Google Earth for Dummies   10. Building a Website for Dummies
Last update: 11 June 2017