Meeting Details: Mornington Information Centre, 320 Main St, Mornington. Car park entrance from Elizabeth Street. Every 3rd Monday a month except December  09.30 AM to 12.00 noon Main Meeting, Convener Terry Said. 01.30 PM to 04.30 PM Family History. A second meeting covering "Family History – Advanced DNA" will be held on the last Wednesday of each month from 2:00 PM to 4:00 PM, Meeting Convener Colin Ackehurst
Conveners: Terry Said, Ian Thomson, Colin Ackehurst and Brian Parkes
---
Next Meeting: Monday 16th July 2018 at 9.30 AM
Next Family History: Monday 16th July 2018 at 1.30 PM

Family History Advanced DNA:Wednesday 25th July at 2.00 PM
We meet Mornington Information Centre, 320 Main Street, Mornington at 9.30 AM, See Map
Our usual Agenda:
09.30 AM The meeting's first session, Q&A with Brian Parkes
10:30 AM till 12 noon  (Following the coffee break) Presentation on varied subjects
01.30 PM to 4.30 PM Family History by Colin Ackehurst
02.00 PM every last Wednesday a month, Advanced DNA Group, also at Mornington Information Centre
As our ID membership Re-badging program is underway, it is requested that  members  whose ID tag is a QR , would you please also bring your old badge,  as the transition  is causing some  minor  difficulties with some QR badges. Thanks.
 Agenda for 16th July  9.30 AM

The meeting commences at 9:30 am.
To assist members,  when illustrative PC Functions are displayed on the overhead screen; Members are invited to bring their personal laptops.
Please have your laptop battery charged to minimize cables across the floor area.
Session 1:  9:30 -Noon
 Part 1: Q&A
As usual the first part of the meeting will be Q&A conducted by Brian Parkes followed by our coffee break.

Part 2
After the coffee break we will have a presentation from Dave Botherway. Dave has attended a number of our meetings but, on this occasion, we will be watching a video of the presentation that Dave gave to the Monthly Meeting at Moorabbin on Wednesday, 6th June. Dave's topic is "Windows Journey to 1803". The most recent Win10 update was released in March 2018, hence it is called 1803. It is a brilliant presentation that will provide you with a lot of interesting information on Windows 10 and where Windows 10 is heading.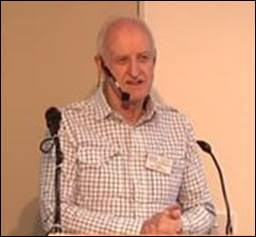 Session 2: Family History,  commences  at 1:30 with short coffee break mid way and concludes at 4:30pm.
The Family History Group will commence its meeting at 1:30pm., with Colin Ackehurst as the Convenor. Colin will be sending an Agenda to all of our members who attend the Family History Group. If you do not receive the agenda, and would like a copy, please contact Colin Ackehurst at colin_a_ackehurst@bigpond.com
The next meeting of the Advanced DNA Group will be held at 2:00pm on Wednesday, 25th July, at the Information Centre. If you are interested and are not receiving Colin Ackehurst's e-mail about this meeting, please contact him on the address shown in the paragraph above.
For more detail see our Family History Page.
 Updated: 6.July  2018