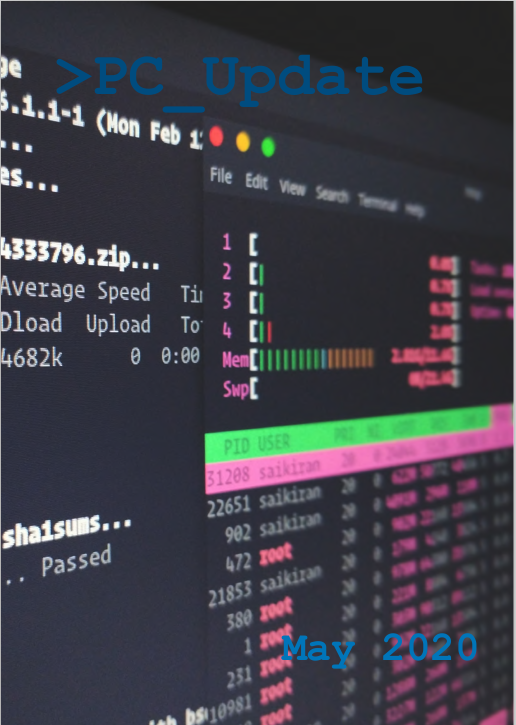 PC Update - May 2020

Contents include …
COVIDsafe tracking app reviewed - Mahmoud Elkhodr, CQ University.
How to booost your internet speed - James Jin Kang and Paul Haskell-Dowland.
Understanding File Extensions - Jim Cerny
Review - LibreOffice 6 - Tom Burt
First Look at Ubuntu 20.04 - Hugh Macdonald
and all the regular items
Click or tap the button below to start your download ...
PC Update - April 2020
Contents include:
Interesting Internet Finds - Steve Costello
Coronavirus: Telcos are picking up where the NBN is failing - Mark Gregory
Review: Linux Mint 19.3 - Cal Esneault
Book Reviews: Nuking the Moon and A Place for Everything - Tim McQueen
and all the regular items
Click or tap the button below to start your download ...
---
To download any of the available PC Update issues from the main PC Update collection, you will first need to log in with your MelbPC Office 365 credentials.
Once you have successfully logged in, navigate to the Quick Links for Members on the Home Page, and click or tap on the link to All PC Update Issues to display the PC Update Current Issues & Archives download page. From there you can download any of the available issues.
---
PC Update is the Melbourne PC User Group magazine/newsletter.
The first issue of PC Update appeared in March 1984 under the title MELB-PC. The name was changed to PC Update in September of the same year and has remained unchanged ever since. The magazine has won a number of International Awards.
PC Update has been published in various formats, firstly as a printed newsletter, then a printed magazine, then an e-magazine, and currently as a e-newsletter.
---