Back to Meeting Notes 2018
Notes from the June 2018 Meeting
---
We missed the dulcet tones of Paul Addis opening the meeting, but David Hatton managed a brisk opening introduction.
Nick Vespo presented Linux news with a video on Project Crostini, an open source project, which is working on developing running Android and Linux apps on Chromebooks running ChromeOS.  It is doing this by taking each app and putting it into its own virtual machine container wrapper which will mean these apps would be click and run on a chromebook.
The video showed Crostini enabling the native Linux app Inkscape being run on a chromebook. One of the current drawbacks is any files generated/produced from within Inkscape, or the app container, is saved within the container and inaccessible from the ChromeOS/chromebook. Further development is aimed at remedying this.
Much discussion resulted from the video.
Next was information that GitHub has been purchased by Microsoft for $7.5 billion. GitHub enables the distributed version management system Git, to be shared in the "cloud" by multiple programmers working on the same source code together without wiping out each person's contribution.
Again much discussion ensued.
Lastly in the Q&A section, a question was asked about what was the best book/web site to go to start learning about Linux in depth. Replies ranged from YouTube University searching on command line commands, to investigate shell scripting using Bash. Lastly it was commented on that with any search result check the date, as Linux has changed somewhat in various areas.
After the break David Hatton demonstrated KDEConnect (KDEC). KDEC is available on Google Play or FDroid for android mobile devices and in the repositories of KDE based distributions such as Kubuntu. It may be installed on a distribution featuring the KDE Desktop by default. KDEC enables your Linux computer to access and control a paired Android device, and vice versa, over the same WiFi network. It doesn't yet work reliably over Bluetooth although development on this aspect is ongoing.
KDEC implements a secure protocol to enable various services between connected devices.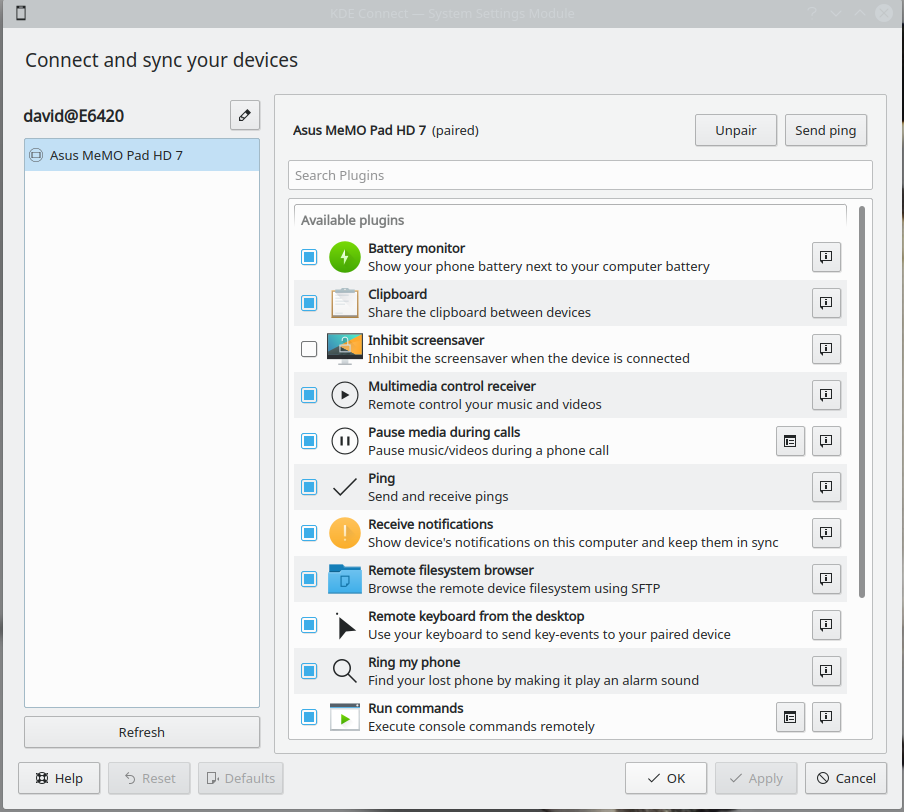 Screenshot of KDE Connect paired to an Asus Tablet
When you connect to your android device, KDEC interrogates the device and lists the functions available on the device – see screenshot above.
KDEC must be running on both your device and computer at the same time. You can copy files, such as documents, photos or videos between your mobile device and your computer using the dolphin, or other, file manager. You can also open files on either device or computer without copying as well. A screenshot of the Asus tablet file system is shown below.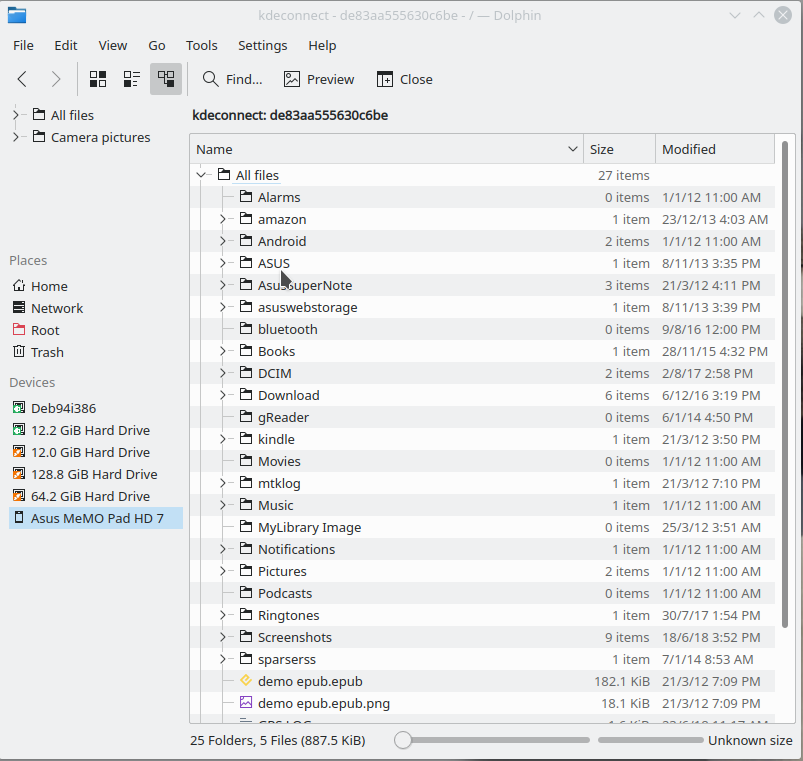 The laptop Dolphin file manager showing the Asus tablet file system
You can read and send SMS messages from your computers keyboard via your smartphone. SMS messages pop up on your computer screen when received by your android smartphone, as well as other notifications.
You can also use your mobile device as a remote control for your desktop or laptop by selecting the remote control option on your mobile device. This enables you to use the mobile device touch screen like a remote touch pad, enabling you to move the mouse cursor and click or double click. Additionally, you can invoke a keyboard on the mobile device and thus enter commands remotely into a terminal session.
There is a similar app to KDEC for Gnome called GSConnect which implements the KDEConnect protocol for a Gnome/GTK desktop. The android tablet David used for the demonstration was running 4.04 so KDEC runs on quite old Android OS.
KDEC is an app that looks very exciting and well worth investigating.