NSLIG – October 2018

Back to Meeting Notes 2018
Notes from the October 2018 Meeting
[hr height="30″ style="default" line="default" themecolor="1″]
The meeting started with a Linux News video provided by Nick Vespo, normal service having resumed.  The subject was the relationship between Microsoft and Linux. It was explained that Microsoft is no longer pursuing other companies for compensation for patent violations. Previously, the pursuit of companies such as Samsung had resulted in payments in the order of a billion dollars.
Microsoft has joined the Open Invention Network (OIN) and announced that "all" of around 60,000 of their patents would not be the subject of violation or infringement law suits. This did not mean that the main product portfolio would be open source, but indicates a further softening of their opposition to open source software, such as Linux.
OIN  is a patent non-aggression community that supports freedom of action in Linux as a key element of open source software. OIN acquires patents and licenses them royalty-free to its community members who, in turn, agree not to assert their own patents against Linux and Linux-related systems and applications.
Microsoft has moved a long way from Steve Ballmer's 2001 description of Linux as a "cancer". One of the main drivers has been the industry's move towards cloud computing. The Azure cloud product now welcomes Linux user organisations rather than rejecting them or just tolerating them as was the case in the past. There can be a major revenue stream available by welcoming the Linux and open source clients and co-operating with them.
The Open Forum session started with a question about the failure of a Ubuntu install on a particular machine when the same ISO has been successfully installed on another. The questions were …
What is the problem? Because the installation did not go far enough for diagnostic information to be produced.

What is the solution? Opinions about the problem included that the machine had a hardware component that caused the problem, but there was no agreement about what the component might be.
Without diagnostic information it is not very likely that even Canonical would be able to provide a quick solution. Previous versions of Ubuntu had been successfully installed on the machine in question.
A somewhat similar problem was also raised. The machine in question is about ten years old and has a 32 bit chip. Distributions install successfully, but 32 bit Firefox crashes during its startup. Lightweight browsers run without problems, but they do not have all the needed facilities. Comments were offered, but no solution was found during the session.
As usual, the social break was enlivened with much discussion , some of it related to the earlier part of the meeting.
The main session of the meeting was another of David Hatton's Random Bytes presentations. The two topics covered were …
Recoll – a cross-platform search facility

Rainmeter – which is a free and open-source desktop customization utility for Microsoft Windows 7 and later.
Recoll is a desktop search tool that provides efficient full text search in a friendly GUI, with minimum technical sophistication and few mandatory external dependencies. It runs under many Unix-like operating systems and Windows, and is mostly independent of the desktop environment. It uses the facilities of the Xapian search engine and the GUI is Qt-based. The package is open source. In common with other search tools, Recoll first indexes the target file system(s) and creates an index database. This process can be much slower under Windows than Linux, although the developer does not yet know why. Searches are quite fast once the index database has been created, and the results display fairly extensive information about the found items. Sample results display below along with an example of a non-simple query.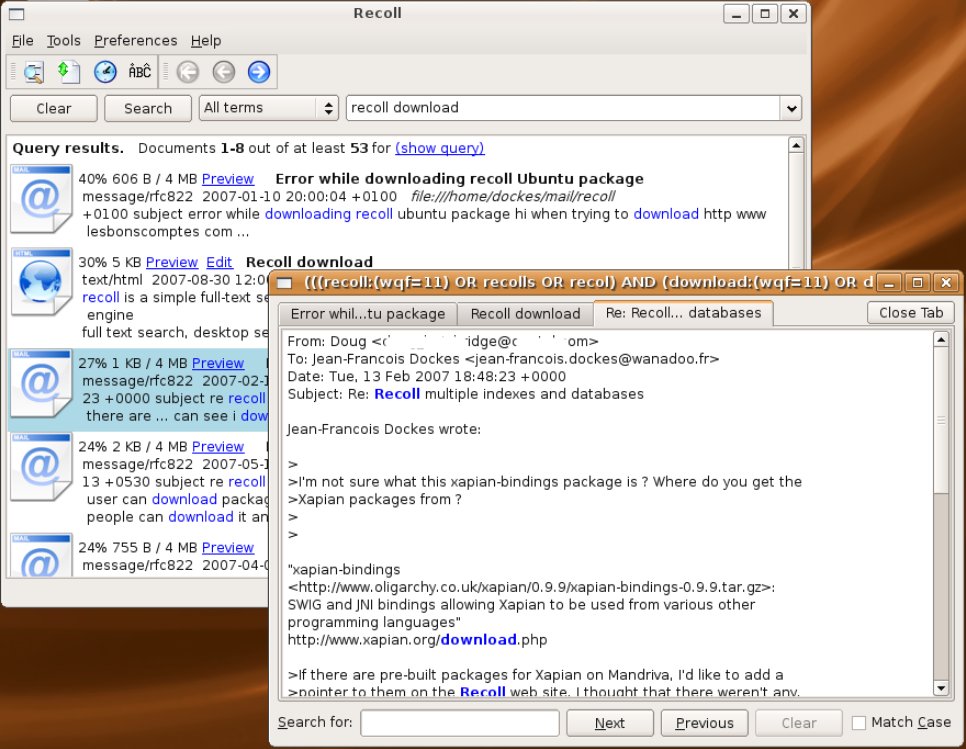 Rainmaker, which is Open Source software licensed under the GNU GPL V2,  allows Microsoft Windows users to create and display user-generated customisable desktop widgets or applets called "skins" that display information. Some skins are very simple, single-purpose tools, like Windows desktop gadgets, or "widgets" on an Android device.  Others are more complex, like miniature applications themselves. Some skins even come bundled in large "suites" and include their own tools for customizing their form and appearance, within or alongside Rainmeter's basic user interface. Every skin works differently, depending on the choices of that skin's individual author.
However, all skins are made from the same building blocks: measures, which gather information from your computer, a website, a text file, or some other source; and meters, which create visual elements in the skin's window, such as frames, borders, backgrounds, images, text, charts, or buttons. The program comes with a basic set of meters and skins – a sample of which is shown below.

The default rainmeter display on first startup
There is an extensive collection of skins developed by users of the program. The skins are extremely diverse, ranging from very simple to highly exotic and complex. An example of a more complex skin is shown below.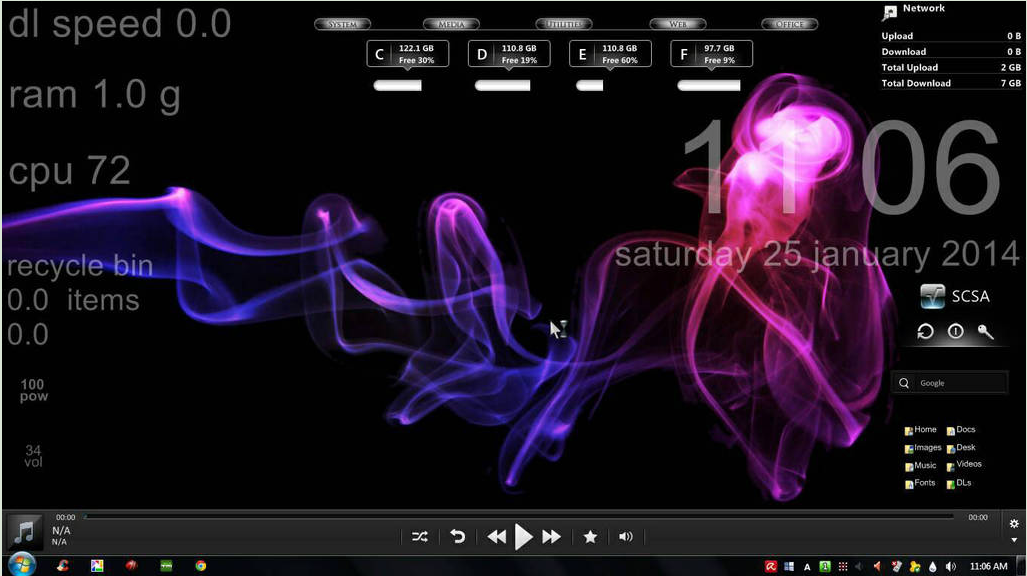 At its most basic level, Rainmeter has been described as "Conky for Windows", although it provides rather different information and the approach to presenting information is radically different.
[hr height="30″ style="default" line="default" themecolor="1″]
Links for more information …