NSLIG – April 2019

Back to Meeting Notes 2019
Notes from the March 2019 Meeting
[hr height="30″ style="default" line="default" themecolor="1″]
In the Linux News session Nick Vespo continued describing the recent changes he has made to his network and he outlined his choice of a firewall. Nick showed a list of good available firewalls, including well-known choices such as DD-WRT, PfSense and ClearOS. Nick's choice is Endian.
Endian is claimed to have a complete software solution with a combination of the switchboard and management centre components. He showed the types of data that can be displayed, including a real-time graph of incoming and outgoing traffic.
Also shown was a list of alternatives to Google's Chrome OS, which is the software component of the Chromebook. Nick's list of alternatives included:
Bliss OS – A relatively new Android-based operating system, aiming to provide a driver for synchronisation between computers, phones and tablets. Currently it supports AMD-X86 and Intel devices.

Lubuntu – A variant of Ubuntu that uses the LXDE desktop environment.
Phoenix OS – An Android-based operating system with access to the legion of Android apps.

Nayu OS – A customised version of Chrome OS, currently still in the development phase.
Sentio Desktop – An app for Android devices that lets you connect your phone to a monitor so that you can run it like a desktop.

Void Linux – A Unix-like operating system that is totally independent, and has a large community of software developers.

Gallium OS – Based on Xubuntu, it is a well-performing and stable operating system, featuring improved battery life.
The Open Forum started with a focus on financial software. Some thirty financial apps in the Google store were evaluated, and the majority had security problems. (reference: 'Security Now' podcast 709). There was concern among attendees that banking and other financial activity on a phone could result in financial loss, and a general feeling that financial activity is best performed via a computer, rather than phone or tablet.

There has been an announcement that the venerable Vi editor is no longer being developed. This may result in a search for a suitable alternative for some people. Vi has been a fairly comprehensive editor with reasonably modest computing needs, and has been popular for a long time as a result.
A device that claims to speed up older computers was discussed. It turns out to be a USB thumb drive that boots into a Lubuntu system that runs much more quickly than the more resource-hungry operating systems currently in use.
After the social break, the main presentation was from David Hatton and was about open source alternative Operating Systems. Three alternative Operating Systems were discussed:
Kolibri OS

Icaros Desktop

Haiku.

Any of the three can be run on an older desktop or laptop machine, but each of them carries explicit warnings from their developers about having either "alpha" or "beta" status, and hence not yet recommended for your "daily driver".
Kolibri OS is "tiny", written in assembler, and claims to be very fast and powerful. It needs only a few megabytes of disk space and 8MB of RAM to run. Its .iso file is around 65 Mbytes. It includes a browser, word processor, an image viewer, graphical editor and a number of games. It has full support for FAT file systems and read support for NTFS and EXT 2/3/4.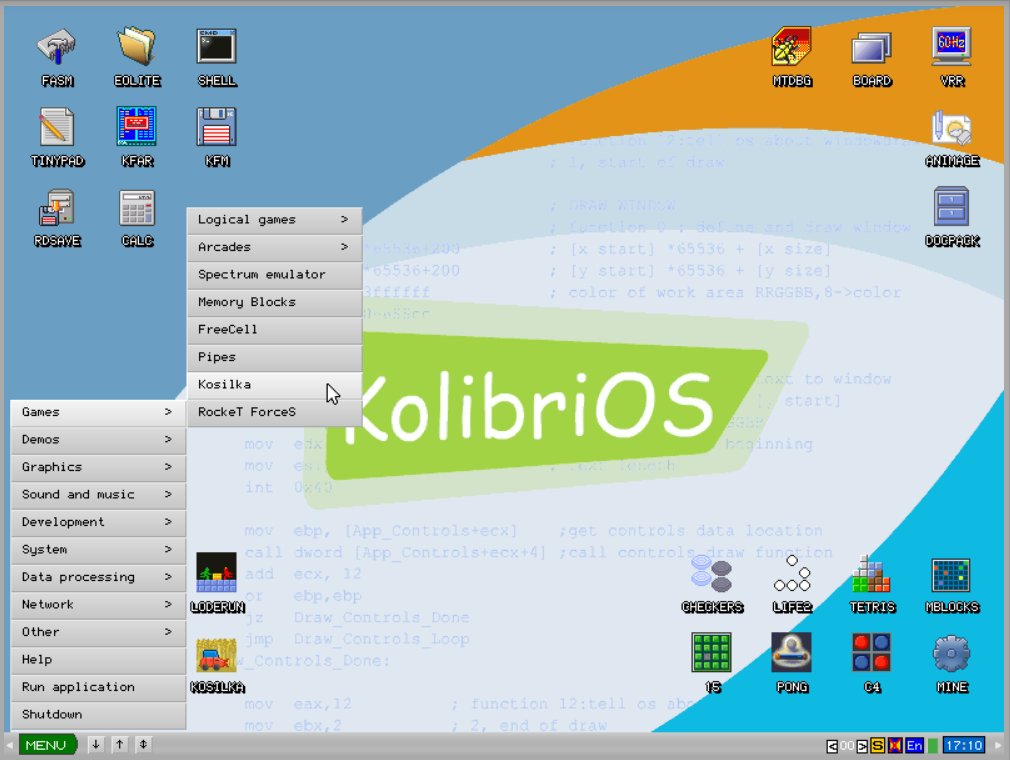 KolibriOS Main Menu
Icaros Desktop is an Amiga-like operating system for the PC platform, with a full desktop environment. It's based on AROS, a lightweight, efficient and flexible open-source operating system, aiming at being compatible with AmigaOS 3. Its Commodore and Amiga origins sometimes show through – in such areas as the desktop background.
It supports a number of workspaces, which are roughly equivalent to Linux desktops. There is a bottom icon menu, similar to the Mac OS dock.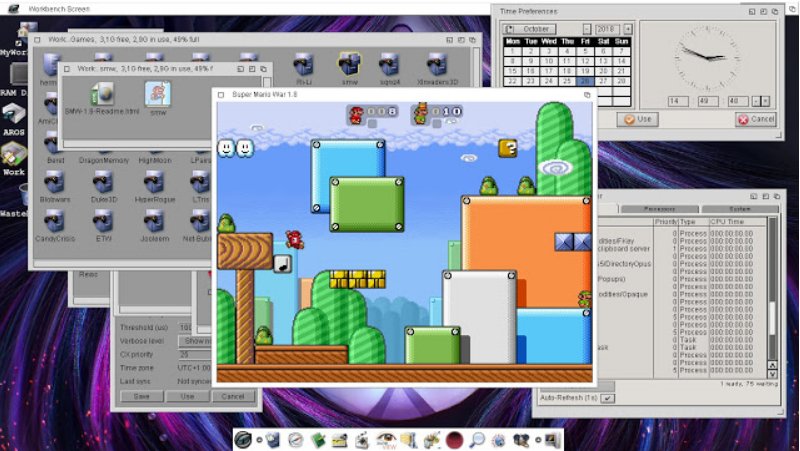 Icaros Desktop with several applications open
Haiku OS is another open source operating system. It is aimed at the personal system user and is based on BeOS. Its claims include that it is fast, simple to use, easy to learn and very powerful.
The Haiku deskbar can be seen in the top right of the above screen. It is roughly equivalent to the Windows taskbar. Haiku's icons are created using vector graphics and therefore scale easily.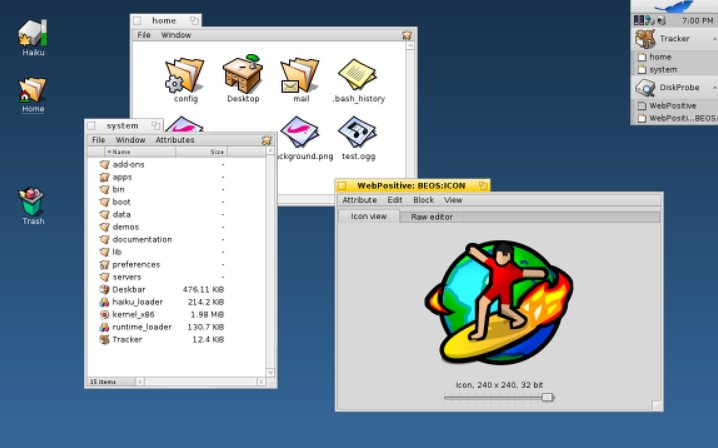 Haiku Desktop with open applications
All three have demonstrations of their capabilities, and especially noteworthy is the Haiku implementation of the classic BeOS "teapot" demo – well worth a look.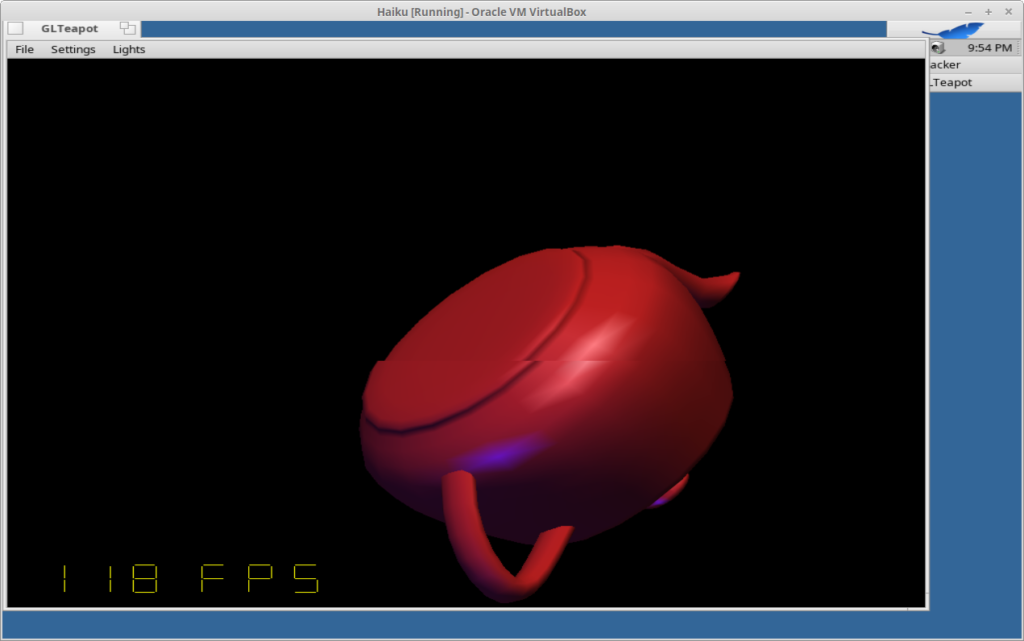 A snapshot of the Haiku teapot demo
All three of the operating systems described above claim to be small and fast compared to Windows and Linux. They can use older and/or less powerful machines. Their disadvantage may be their general lack of visibility and therefore they have few or no applications created by independent developers and lack access to the libraries and repositories available to Linux and Windows users
All three operating systems can be run inside Virtual Box if you want to try them out before attempting to install them on real hardware – it's a good idea to read through the documentation on running them from a live CD/DVD before you start.
Links:
Kolibrios: https://kolibrios.org/en/
Haiku: https://www.haiku-os.org/
Aros Desktop Live: http://vmwaros.blogspot.com/p/about.html