Yammer Highlights September 2020
Dennis Parsons
Our move to Google G Suite
This is a new group created by Harry Lewis to aid with the transition from MS Office365 based email to Google based G Suite Gmail.
It's the place to ask all your questions about the transition and find out what's going on – one of the transition team or other Yammer users will have an answer for you. All you need to do is subscribe to the group in Yammer – click on "MELBOURNE PC USER GROUP INC." at the top of your list of subscribed groups on the left, or just follow this link:
<https://www.yammer.com/melbpc.org.au/#/threads/inGroup?type=in_group&feedId=41621381120>
NBN Questions and Comments
Back in March 2018 I conducted a survey on Yammer asking members to indicate which sort of Internet connection they used at home, ranging from dial-up through to satellite and whether it was an NBN based connection or otherwise.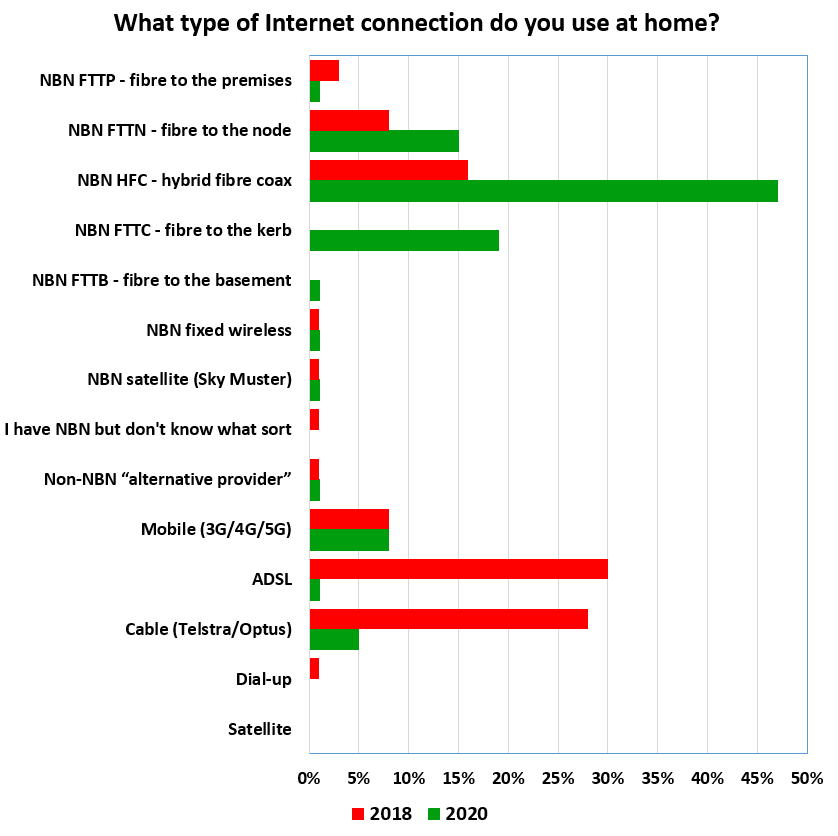 The results, shown here in red, were split roughly 2 to 1 in favour of the non-NBN based connection types. ADSL and Telstra and Optus cable were the dominant technologies at ~30% each, with NBN HFC next at ~15%. All other connection types were under 10%. Looking at the graph the concentration of red on the lower half reflects the dominance of the older technology.
It was suggested I re-run the survey to see how the connection landscape has changed, so last month (September 2020) I did so.
Given the official pronouncement that the roll-out of the NBN has been completed, despite the recent announcement of bulk upgrades of FTTN connections to FTTP, it's hardly surprising that NBN connections, shown here in green, well and truly dominate. The previous connection king, ADSL, has all but vanished with Telstra and Optus cable not far behind at 5%. The high concentration of green on the upper half of the graph reflects the overwhelming dominance of NBN connections – some 85% of all connections.
I was a little surprised that NBN HFC is so dominant with close to a 50% share of connections, triple what it had in 2018, but a quick examination of the 2018 data gives a large hint – Telstra cable connections have been converted directly to NBN HFC.
The number of FTTN connections has doubled to 15% and FTTC has gone from 0 to ~20%. The FTTC roll-out only started at the end of 2017 so the large increase isn't surprising.
Unfortunately for our members FTTP is still very uncommon – I'm the only member lucky enough to have it in 2020! Hopefully a few of the FTTN connections will be included in the FTTP upgrade plan.
2018 survey: <https://www.yammer.com/melbpc.org.au/#/Threads/show?threadId=1037427240>
2020 survey: <https://www.yammer.com/melbpc.org.au/#/Threads/show?threadId=834063525208064>
Note I've taken a couple of liberties: in 2018 there was no 'Non-NBN "alternative provider"' category and I've moved one entry from FTTP to this category to reflect what one member would have chosen. In 2020 I've also added one entry for this category to cater for a non Yammer user.