Editorial February 2022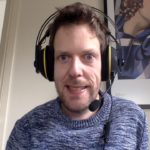 Hugh Macdonald
Hello and welcome to another edition of PC Update and welcome to another year in the life of Melbourne PC User Group.
I'm sure I wrote something similar last year, but we can only hope that this year is better than the last. Although so far there is no sign that that is going to be the case.
In the meantime PC Update is here to inform and entertain you on all computing matters.
This month we have a few club members who have contributed articles, which is always very much appreciated. Roger Brown has taken time out from DOTW to write about his Linux distribution of choice, Arch. Arch is one of the more challenging Linux distributions to install and use, but Roger goes through the options thoroughly. After reading the article I was about to install Arch, so you should too.
Greg Eden is also along this month to tell you about some of the slightly lesser known features of Google Workspace, which is, of course, the new platform that MelbPC is moving to. [Yammer, and OneDrive, still to go!] So look out for more articles on GWS going forward, as Greg is planning a multi part series.
There's also the East SIG Report from Neil Muller, and Yammer Highlights from Dennis Parsons.
And hopefully as the year progresses there will be stuff happening at the club to report on. But until next month, stay safe and enjoy reading!